Product Solutions for Rideshare & Delivery
Uber, Lyft, and other rideshare and delivery drivers can be prepared for the unexpected and stay protected with Cobra smart dash cams, jump starters, and other portable power solutions.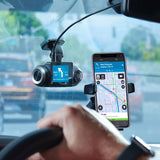 Smart Dash Cams
Give yourself an extra pair of eyes on the road - and in your vehicle - with a Cobra smart dash cam. With high resolution, continuous loop recording, and cloud-based storage, dash cams let you capture, share, and store videos easily. Accidents and other unexpected situations can happen in an instant, so having video evidence for what happened can be beneficial for legal and insurance claims.

Need a dash cam solution for multiple vehicles? Cobra Business Solutions can help. Our companion Drive Smarter® app can help you manage multiple devices. Plus, our dash cams are full of smart features like dual-band Wi-Fi, Bluetooth®, GPS built in, and an included SD card so you can get to work quickly.
Jump Starters
A dead battery is the last thing any driver needs, but this is especially true for rideshare and delivery drivers. Cobra jump starters ensure you don't have to wait for assistance to start your vehicle. Get back on the road and back on the job quickly when you carry your own powerful jump starter.

With enough amps to start all car batteries and most trucks, Cobra jump starters are a must-have in every work vehicle. Plus, built-in fast charge USB ports let you charge your device while you're on the go.
Get Your Business Benefits Today
Our team of product experts can help you find the best solution for your company. Fill out the form and a Cobra representative will contact you shortly.
Or call us: 513-870-8563
Monday-Friday 8:00 AM-4:00 PM EST
For Fleet Sales installation and support contact Sales: 1-800-964-3138
For strategic partnerships and consultation contact Mark Karnes: 847-778-9655