Radar Detectors
Drive Smarter®
Cobra's radar detectors help you stay safe and alert. Combined with laser detection technology, we have radar detectors for sale that offer 'instant-on' detection to quickly recognize all radar signals from the front and rear of your vehicle. Our advanced technology reduces false alerts so you can drive with peace of mind.
Choose Your Radar Detector
Need help finding the right radar detector? Answer a few questions to help determine your needs and get expert recommendations.
Find Your Radar / Laser Detector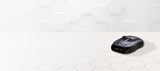 About Radar Detectors
Car radar detectors help you stay safe, alert, and focused on the road with the information you need when you need it. They do more than just help you avoid a ticket; a good cop radar detector alerts you to the potential roadblocks or traffic congestion that a speed trap could cause, helping you reduce your speed and drive smarter – and safer.
Police radar detectors detect X, K, and Ka-band radar signals, and laser detectors detect VG-2 signals. Instant-on detection recognizes radar guns quickly and can detect them at the front or the rear of your vehicle.
Our radar detectors include advanced technology that reduces false alerts, and they have easy-to-read displays and intuitive icons that have clear visibility, even in low-light conditions. The unique tones are easy to hear and understand. Enjoy Cobra radar detectors with advanced features like integrated GPS and Defender® database knowledge, VoiceAlert, QuietDrive, adjustable sensitivity, OLED displays, and dim mode.