Power Inverters
Power Where You Need It
Our family of reliable and dependable power inverters for cars, RVs, and trucks provides the power you need, whether it's to work, play, or getaway.
Travel Essentials: Drivers and their loved ones can always count on Cobra for reliable communication and safe power solutions. Learn More
Choose Your Power Inverter
Need help finding the best power inverter for your car, RV, or truck? Answer a few questions to help determine your needs and get expert recommendations.
Find Your Power Inverter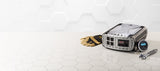 About Power Inverters for Cars & Trucks
Recreational and professional grade power inverters are useful tools for cars, trucks, RVs, and any other vehicle that requires power for appliances, tools, and devices. Truck and car battery power inverters take the electricity from your vehicle battery and transform it into power for appliances for camping, tailgating, power outages, construction, or for professional drivers and their needs. You'll find Cobra truck and car power inverters with USB ports, remote on/off controls, GFCI outlets, and other useful options.
Cobra portable power inverter for cars, trucks, and RVs are the safest, most reliable power inverters available today. With GFCI protection, CETL certification, and a host of other safety features, you can always count on a Cobra power inverter for cars and trucks to keep you safe. Built-in Pentagon Protection® gives you 5 levels of protection against failures—thermal shutdown, reverse polarity, over-voltage, low voltage shutdowns, and a low voltage alarm.