Power Where & When You Need It
Cobra's family of power solutions are the safe, reliable way to provide you with power, wherever and whenever you need it. Our power solutions include a line of vehicle power inverters to convert DC to AC electricity, jump starters, battery charger, and portable power station to meet your backup or on-demand needs for any situation.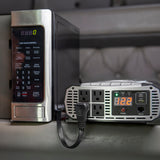 Reliable & Safe Power Anywhere
All of our power inverters are GFCI protected and built with Pentagon Protection® to keep you safe. Get 5 levels of protection against failures—thermal shutdown, reverse polarity, over-voltage, low voltage shutdowns, and a low voltage alarm. The Cobra PRO 2500W is a professional grade power inverter that can charge your devices while also powering higher wattage appliances like power tools, TVs, blenders, refrigerators, and more.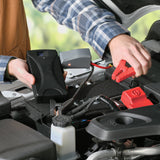 A Lifeline for Your Dead Battery
With a long-lasting Lithium-Ion battery capable of holding a charge for 365 days or longer, convenient fast charge USB-A and USB-C ports for charging and powering your devices, a built-in flashlight with different modes, and a weather-resistant design, the Jump Starter 1000A is packed with technology to make sure you can quickly and easily start a dead vehicle or boat battery or to provide on-demand power for your devices when you're on the go.
Keep Your Batteries Ready to Go
When your recreational vehicles are done for the season, or you just want to ensure that they're ready to go whenever you are, the Battery Charger 2A makes sure the batteries are fully charged and maintained. With multi-stage smart charging capable of switching from charge to maintenance mode, the charger can handle a 6V or 12V battery as well as Lead Acid, Wet Cell, Gel Cell, AGM, and Lithium batteries.
Portable Power for All Your Adventures
The Power Station 200W uses a long-lasting 211Wh Lithium Iron Phosphate battery that can be recharged over and over for years. Plus, multiple outlet types, including two 110V AC outlets, a 12V DC socket, three fast charge USB ports, and two LED lights provide all the power and lighting you need for your outdoor adventures.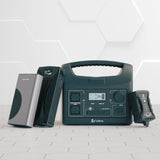 Conveniently Charge & Power Your Devices
Equipped with a USB-A / USB-C Fast Charge ports, our power station, jump starters, and power inverters allow you to charge your smartphone, tablet or other portable electronics and devices while on the go.