Cobra Cloud Cam Series
Connected dashcams with real-time community-sourced driver alerts. Receive and share information about traffic hazards or speed traps, map and save routes, record video on the road and remotely view your car.
Drive Connected.  Drive Protected.
Cobra SC 400D

Full Featured Dash Cam
Single-view connected dashcam featuring real-time driver alerts from the SC community, voice command and Alexa integration, upgradable with additional camera models to add rearview and/or interior monitoring—our most advanced package
4K resolution
150° field of view
3" Color OLED Touch Screen Display
Available Flex-View camera modules to add rearview and/or interior monitoring
Voice command including optional Alexa integration and Infotainment access.
Mapping, remote vehicle monitoring and live in-transit recording
Dual-band Wi-Fi to enable remote monitoring and document traffic events
Bluetooth connectivity to smartphones and the cloud-based Drive Smarter platform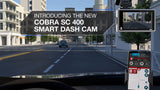 Cobra SC 200D

Cloud Enabled Modular Dash Cam
Single-view connected dashcam featuring real-time driver alerts from the SC community, upgradable with additional camera models to add rearview and/or interior monitoring
Quad HD resolution
Flex-View camera modules to add rearview and/or interior monitoring
Combined GPS capability to automatically embed time, speed, mapping detail and route tracking
Dual-band Wi-Fi to enable remote monitoring and document traffic events 
Bluetooth connectivity to smartphones and the cloud-based Drive Smarter platform
Cobra SC 201

Dual View Dash Cam
Dual-camera connected dashcam featuring real-time driver alerts from the SC community designed for rideshare drivers and fleet managers
Quad HD resolution
140° field of view
2" color LCD display
Infrared technology (IR) interior cabin view camera for driver security and passenger safety
Voice Command road-view and remote car monitoring technology
Dual-band Wi-Fi to enable remote monitoring and document traffic events 
Bluetooth connectivity to smartphones and the cloud-based Drive Smarter platform
Cobra SC 100

Simple Install Dash Cam with Advanced Features
Single-view connected dashcam featuring real-time driver alerts from the SC community with minimalist design
1080P resolution dash cam
140° field of view
Combined GPS capability to automatically embed time, speed, mapping detail and route tracking
Dual-band Wi-Fi to enable remote monitoring and document traffic events
Bluetooth connectivity to smartphones and the cloud-based Drive Smarter platform
Discreet styling and quick-release mount