Portable Jump Starters
Power Where You Need It
Get the peace of mind you need for your drive with a portable jump starter. Our portable battery jump starters give you the power to jump start your vehicle without assistance. With enough power to jump multiple times, you can even be a hero for another driver.
Travel Essentials: Drivers and their loved ones can always count on Cobra for reliable communication and safe power solutions. Learn More
Choose your JumPack Portable Jump Starter
Need help finding the right jump starter? Answer a few questions to help determine what you need and get expert recommendations.
Find Your JumPack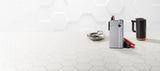 About Jump Starters
JumPacks let you jump start your car, no matter where you are, without help from another driver. Our compact jump starters have enough power to jump start gasoline and diesel cars, cargo vans, light-duty trucks, and boats, so you'll never be stranded again.
With one full charge, our portable jump starters will give you several jumps, providing extra peace of mind when you can't recharge right away. A jump start battery pack can also charge smartphones, tablets, digital cameras, and other devices to keep you connected while you're on the road or on the water.
Cobra JumPacks are compact and portable, with extra features like high-intensity built-in flashlights, strobes, and SOS functions for any emergency. Enjoy the security and versatility of portable power from a compact jump starter when you need it.