Professional CB Radios
The Truck Driver's #1 Choice
Groundbreaking technology, modern design, and unmatched reliability make Cobra CB radios the #1 choice for truckers and professional drivers. Our new dual-mode Cobra Professional AM/FM CB Radios keep everything you love about our classic CBs and add new FM frequency capabilities for clearer sound with less background noise.
Travel Essentials: Drivers and their loved ones can always count on Cobra for reliable communication and safe power solutions. Learn More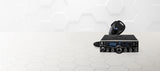 About Professional CB Radios
Professional-grade CB radios are built to be durable, reliable communication solutions for truckers and other professional drivers. Whether it's to communicate with friends, family, or colleagues, we have high-power CB radios for sale that will ensure crystal-clear sound, with adjustable settings for optimum performance and instant access to emergency channels and alerts.
Cobra led the charge in the FCC's 2021 decision to add dual-mode AM/FM for use in CB radios in the United States. Now with FM capabilities, our CB radios will produce better sound quality without the need to replace your existing antenna. In addition, our new AM/FM CB radios are backwards compatible so you can easily communicate with older AM-only CB radios.