Cobra Power Station 200W
Portable Power for All Your Adventures
Get the power you need, wherever you need it. The Power Station 200W is the jack-of-all-trades power source for all of your outdoor adventures. With multiple outlet types, 2 LED flashlights, and built-in safety protection, it's perfect for camping, tailgating, boating, and beyond.
Buy Now
Cobra Power Station 200W
200 Watt Portable Power Station with Multiple Outlets & Ports
Discounts for Military, First Responders, Teachers and Students through
See Terms
Discounts for Military, First Responders, Teachers and Students through
See Terms
Portable Power for All Your Adventures
When you need portable power for your road trips, parties, or weekend fun, the Power Station 200W is the ready-to-go power source for your devices, electronics, and small appliances.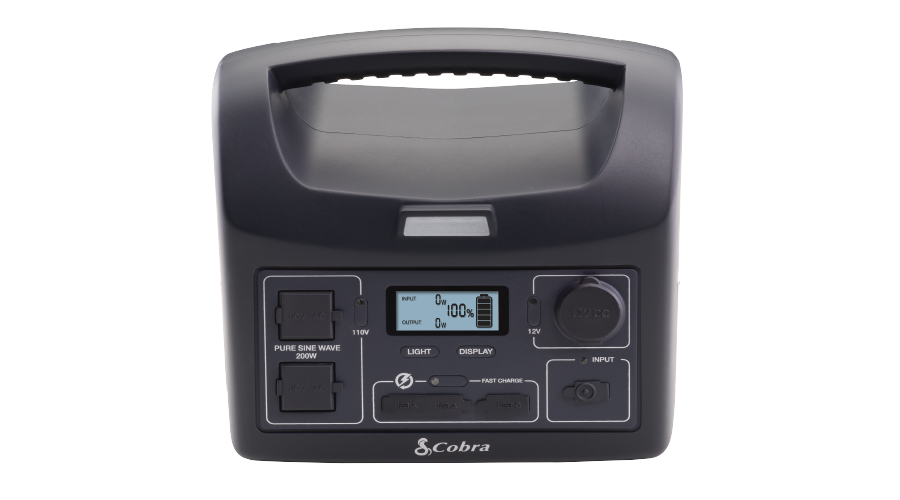 1

Power Anywhere, Anytime

The large internal 211Wh Lithium Iron Phosphate battery can power your gear all day and will last through the years
2

Safe for Your Electronics

An internal 200W Pure Sine Wave Inverter lets you use your electronics just like your wall outlets at home
3

AC Plugs? No Problem

Two GFCI AC outlets provide the 110V power you need for your electronics, tools, or small appliances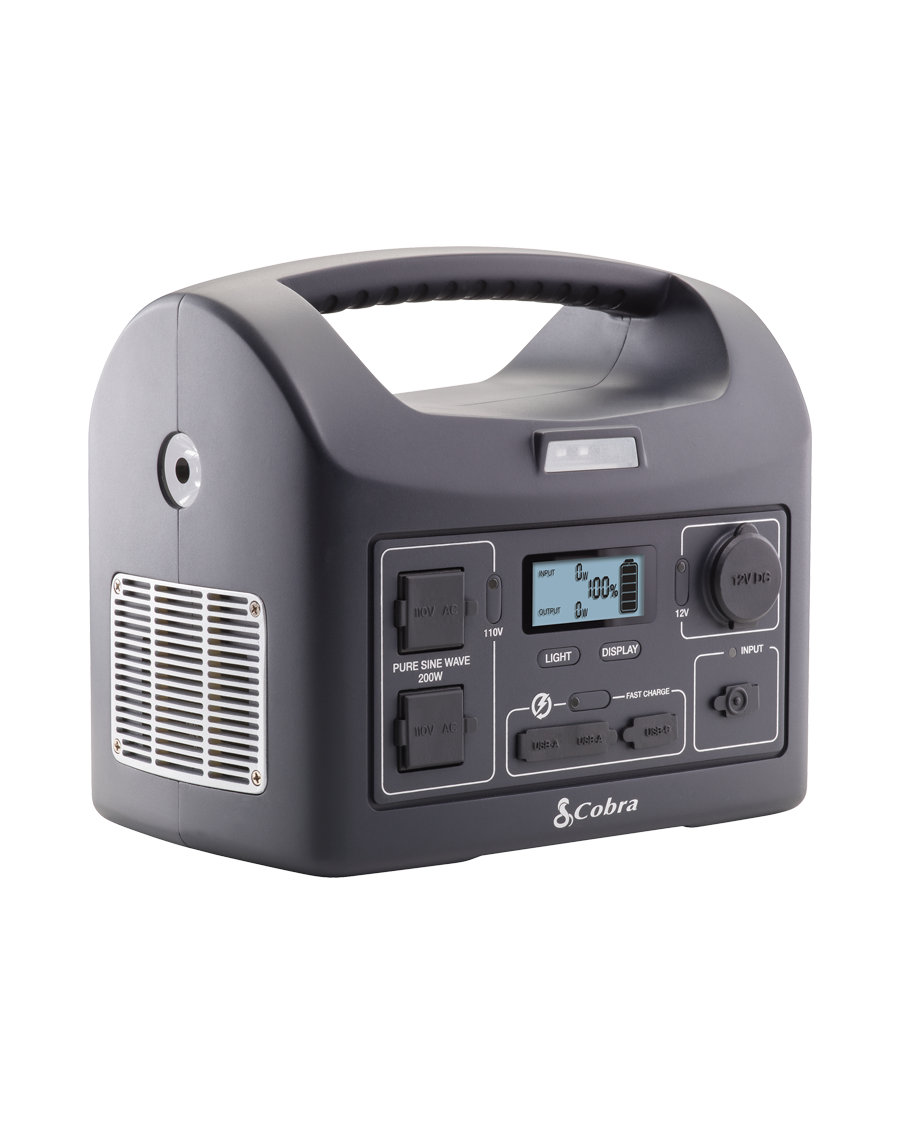 4

Fast Charge Your Devices

Two fast charge USB-A and one fast charge USB-C ports allow for charging multiple electronics simultaneously
5

Lighting for Every Situation

Use the LED flashlight when on the move while the Area Light provides broader illumination
6

Recharge with the Sun

A built in MPPT controller lets your recharge your power station with any compatible solar panel setup*
*Solar Panels Sold Separately
ADDITIONAL FEATURES

12V DC Socket
Use any DC-connected devices with the built-in 12V socket
At-a-Glance Status
Easily view battery status and power output with the easy-to-read LCD display
Low Battery Indicator
LED indicator alerts you when your battery is low

Charging Cables Included
Recharge the Power Station with the included AC and 12V cables

Go-Anywhere Portability
Lightweight design is perfect to take with you anywhere
2-Year Warranty
Satisfaction guaranteed with our 2-year product warranty
Power Station 200W
2 AC Outlets
12V Socket
POWER WHERE & WHEN YOU NEED IT
Cobra's family of power solutions are the safe, reliable way to provide you with power, wherever and whenever you need it. With advanced technology and built-in safety protection, you can always count on Cobra for your power needs.
WHAT'S IN THE BOX
Power Station 200W
AC Wall Charger
12V DC Charger
Quick Start Guide
Item # CPPS244W
Unit Dimensions: 8.9" x 5.9" x 7.9"
Weight: 7.9 lbs
What type of battery is in the Cobra Power Station 200W?
The Cobra Power Station 200W contains a battery pack which consists of an array of LiFePO4 cells with high energy density.

How do I know if my power station is charged?
The power station's current battery charge percentage is shown on the LCD display. Additionally, if your power station drops below 20% charge the LED above the input charging port will illuminate red indicating that you should recharge your power station as soon as possible.

Can I charge my power station while also powering devices?
Yes, the power station can power other devices even while it is being recharged. However it is not recommended to use the power station while it is being recharged.

How many devices can be connected to the power station at once?
As long as you don't exceed the 200W continuous power limit of the power station inverter, all AC outlets, USB ports and 12V socket can be used simultaneously to charge and power devices. The more devices are being used at once though, the faster the battery will be drained on the power station.
How do I turn the fan off?
The internal fan is an important part of keeping your power station cool when using the built in power inverter. The fan will turn on once a certain temperature threshold is reached and continue to run until the power station cools back down. However, when you are done using the power inverter, if you turn off the 110V switch on your power station control panel the fan will immediately stop running as the inverter has been shut off.

How do I know if my 110V device will work with my power station?
You will need to check the amount of power your device requires. To be compatible with this power station you should use devices that require less than 200W of power.

Can I run sensitive electronics and medical equipment with this device?
This power station has a pure sine wave inverter that is identical to the AC power you use inside your home. It is okay to run sensitive electronics on this power station.

Can this power station be used outdoors?
Yes, this power station is designed for both indoor and outdoor use. However, as stated earlier in the product manual, take care not to get the power station wet during use as it can cause harm to both you and the product.
Related Products